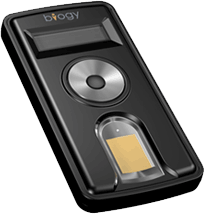 The Biogy Personal Data Vault is a fingerprint protected USB flash drive.
All data on the drive is biometrically protected and can only be read after being unlocked with the owner's fingerprint.
Further, all data stored on the flash chips is protected by AES-256 bit hardware encryption with superior read/write speeds. The AES-256 bit key is uniquely generated by the user's fingerprint and is securely stored on the Biogy chip that performs the fingerprint authentication and other cryptographic protocols.
The Biogy Personal Data Vault provides FIPS 140-2 level security with consumer ease of use. The data storage cannot be compromised by PIN or password theft and so does not need to be kept physically secure. The Biogy Personal Data Vault does not use any software drivers so it is platform independent. Additionally, all enrollment and authentication is completely self-contained on the drive. This drastically reduces IT costs and maintenance and completely eliminates identity theft, key logging attacks and other common attacks.
Security Features
AES-256 bit hardware encryption – securely bound to fingerprint authentication.
Online data vault backs up data with no keys stored online.
Identity Theft Protection.
Fingerprint templates never leave the secure chip andare encrypted.
PIN and passwords are not stored on the drive or anywhere on the system.
All fingerprint and security software is encrypted and embedded on one chip. Encryption keys are not stored anywhere on the system or chip.
One-time passcodes (OTPs) for secure user authentication with Server API and databases MySQL, MS SQL, and Oracle supported.
Optional: Suite B, NSA-approved cryptography.
Optional: Digital signatures securely bound to a unique person's fingerprint authentication.
Drive Features
Windows, Macintosh, and Linux Compatible.
Onboard Enrollment & Authentication. No software installation. No drivers.
Enrollment takes less than 30 seconds using an onboard OLED.
1 to 5 Users may access the device.
USB 1.1/2.0 Full and High Speeds.
Capacities: 1GB, 2GB, 4GB, … up to 32GB.
Dimensions: 3.6 inches x 1.8 inches x .3 inches.
Optional Secure Data Vault for data backup.
Fingerprint Authentication
360º Finger Rotation Correction with Area Sensor.
Less than 1:100,000 False Acceptance Rate.
Anti-tampering algorithms to prevent fingerprint spoofing.
Area Sensor Operating Range: -40°C to 70°C.